Fresh Flowers
 Floral Arrangement Size Chart
Selecting the Perfect Floral Arrangement Size Can Be Tricky. You Have Questions Like; "So, What's The Difference Between Petite and Premium?"
Here's a Floral Arrangement Size Chart Guide to Help You Decide What Size Is Best for Your Occasion.
So, We Are Not Your Typical Country Florist In Nappanee When You Upgrade Your Floral Arrangement, You Get Nicer Container Versus a Vase, More Flowers, and/or Just a Little Extra as We See Fit.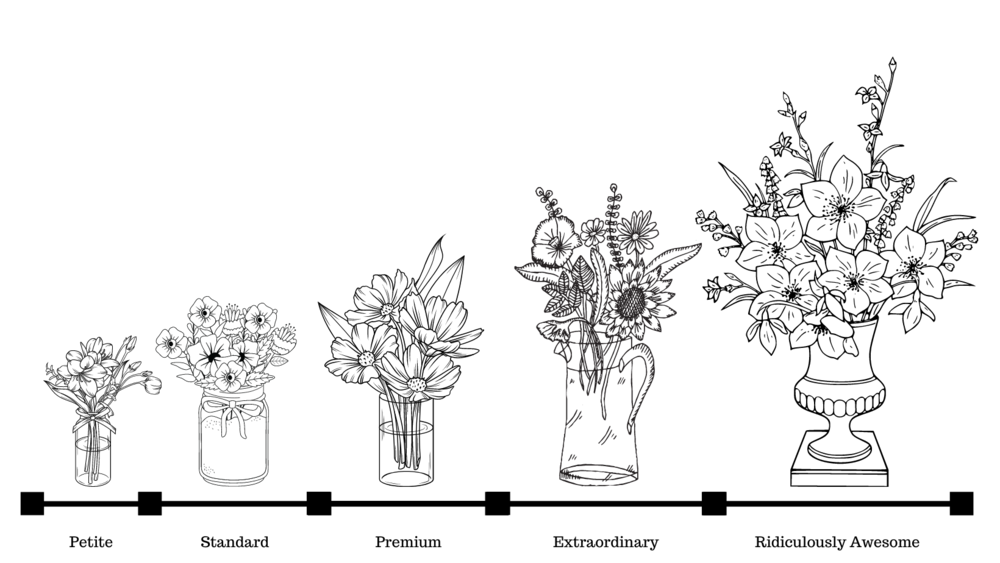 Petite ($35-55): This Is Our Smallest Size. It Is a Simple and Sweet Little Arrangement That Would Fit Perfectly on An End Table, A Desk, or Smaller Table. This Is Our Most Popular Size for A "Thinking of You" Gesture. These are also great to you are visiting our store in Nappanee Three Doors East from Neighbors Mercantile as Jayla's Flowers Has A $50 minimum Delivery Requirement.
Standard ($60-75): This Is a More Medium Sized Flower Arrangement. It's A Little Larger Than the Upgraded Petite but Now We Have More Room For A Few More Premium Flowers. If You Are Not Wanting A Designer's Choice Arrangement and Are Going to Specify Which Flowers Can or Cannot Be In Your Floral Arrangement This Is the Size To Start With. The Standard Flower Arrangement is Perfect Size for a Kitchen Counter or Coffee Table and Is a Popular Choice for a Birthday, Graduation, or Retirement.
Premium ($80-100): Now We're Getting to the Larger Size Floral Arrangements. This Floral Arrangement Will Includes More Premium Flowers and Is a More Substantial Size. Frankly, Our Country Florist and Urban Flower Artist Love Working on This Size of An Arrangement, Because It Offers A Wider Variety of Flowers. It Will Fit Nicely on a Dining Room Table or a Larger Space and Is an Excellent Choice for An Anniversary Ending In a "0" or "5", To Send as A Sympathy Gesture, Or A Substantial Event.
Extraordinary/ Ridiculously Awesome ($105-250): These Are the Biggest Floral Arrangements… For The Most Superb Times When It Has to Be Truly Spectacular and Nothing Short Of "Wow". Outstanding, Luxurious, Extra-Large Arrangement of Most Exquisite and Exceptional Varieties of Flowers and Other Natural Design Elements, Arranged in A Most Delightful Vase. This Piece Is Perfect for An Entry Way, A Larger Centerpiece on a Dining Room Table, And Anywhere That Needs a Larger Statement.
Hand Tied Bouquets Come with A Water Source So the Blooms Stay Hydrated Until They Are Able to Get into A Vase.
Vased Arrangements Will Come in Either a Glass Vase or A Ceramic Container.
Centerpieces Are Designed Slightly Different Than Our Vased Arrangements to Allow a Nice Table Feature That Guests Can See Over.